Let us come to you . . .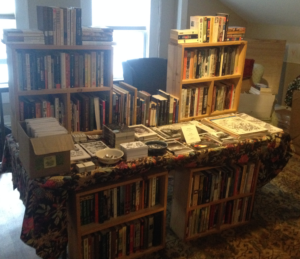 With four mobile bookshelves, A Boulder on the Tracks can bring over 200 titles to your event. We're based in Missouri and willing to travel a day's journey, for large enough events, to bring you some of our favorite stories. Places this boulder has rolled over the years include Kansas City, Columbia, St. Louis, and northern Missouri; Chicago, Champaign-Urbana, Edwardsville, Granite City, and Carbondale, Illinois; as well as Milwaukee, Winona, Minneapolis, Asheville, Carboro, Tulsa, and Houston.
Drop us a line at messingaround [at] riseup [dot] net if you'd like to invite us to an event!